2003 Results
Producers module commentary
Trading relationships with suppliers and farmers is one of the most contentious elements of supermarkets' influence on sustainability. And yet supermarkets generally put a lot less emphasis on their trading relationships when they report on Corporate Social Responsibility.
Most retailers have put sound policies into place which oversee relations between themselves and their suppliers. The Office of Fair Trading (OFT) Code of Practice was adopted, as required, by the Big Four retailers with market shares over 8%, though it was also voluntarily adopted by Co-op. The other retailers have adopted their own Codes, such as Somerfield's Code of Practice on Supermarkets' Dealings with Suppliers. The OFT Code of Practice encountered criticism of being watered down by industry lobbying, and of failing to curb retailers' predatory practices.
Some retailers have adopted more stringent Codes, such as the Co-op's Code of Business Conduct.
Although there is very little difference in corporate policy on fairness in trading with suppliers and farmers, there are clear differences on the ground in suppliers' rating of supermarkets' integrity in the way in which they do business. The need to 'ground-truth' supermarkets' policies is particularly acute in this module, which is why the Centre for Food Chain Studies at Imperial College was commissioned to develop a methodology to compare supermarkets, based on concepts of distributive justice (how costs and benefits are divided between trading partners) and procedural justice (the fairness of one party's procedures and policies for dealing with its partner(s))
When the supplier survey was piloted in 2002-3, the variation between retailers was clear (see figure), though the sample size was quite small. It is of utmost importance that supermarkets subject themselves to this form of comparative assessment. The fact that only two retailers (Co-op and Iceland) participated in the main survey using this method in 2003 reflects very poorly on the level of transparency in UK food retailing.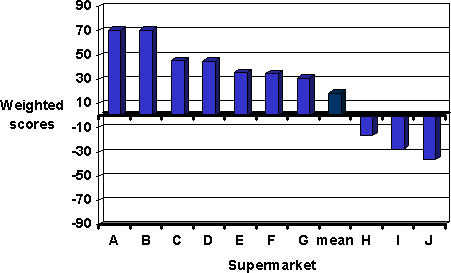 Fairtrade
In 2003, RTTT chose 'availability and promotion of Fairtrade Marked products' as an indicator of supermarkets' support for smallholder producers in developing countries. Retailers with smaller store formats and lower-income customer bases often complain that this indicator is skewed in favour of retailers with hypermarket formats (shelf space for many niche products) and higher-spending customers (willingness to pay Fairtrade premium). This is partially true, and also applies to products with higher Animal Welfare credentials. But the success of the Co-op's development of the Fairtrade sector supports the view that the market has much more to offer than an up-market niche.